We recognize that all our patients are unique and deserve to receive dental care that reflects their individual needs. Our experienced and talented dental team is committed to working with you and your family to create a comfortable, stress-free, and rewarding dental experience every time you visit our practice.
We are pleased to welcome you and your family, and we look forward to working with you.
---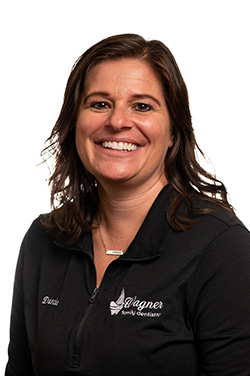 Darcie
Office Manager / Business Office
If I had to describe myself in three words, they would be dedicated, knowledgeable, and caring. I love using my extensive dental background and industry knowledge to bring our team together in a way that gives you a patient experience that is seamless from start to finish. I am happy to meet with you to discuss treatment plans, work out financial arrangements, or address any related concerns. I am a tireless advocate for making great dental health an option for everyone.
One cat, one horse, five kids, my husband, and I all call a 120-year-old farmhouse in Denmark home. This is us, loving life in the country. When I am not at work or thinking about work, you will find me in the barn enjoying the animals or in the kitchen whipping up something tasty for my active family. I am passionate about incorporating a healthy lifestyle into our busy life, which is a carryover from my days of owning a local fitness studio.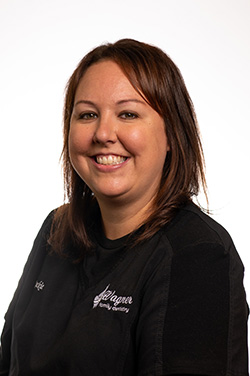 Jackie
Patient Representative
After spending more than 14 years as a dental assistant, I found my home working the front desk. I love being the first smiling face you encounter when you check in for your appointment or the welcoming voice you hear on the other end of the phone when you call the office. Our patients make coming to work fun and I look forward to helping you have a great experience each and every time you visit us.
My husband and I enjoy raising our two boys in our small, close-knit Kewaunee community. We are active in our church and count faith, family, and friends as our biggest blessings! When I'm at home, you might find me relaxing on our patio, spending time at the beach, curled up by a cozy fire, or slipping in a few steps from some of my old high-school dance team routines. Got to admit I still love it!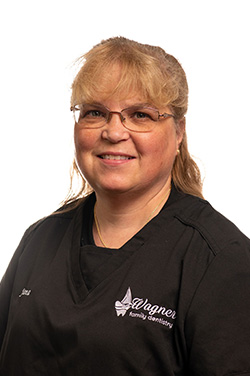 Jana
Registered Dental Hygienist
I am the long-timer here! Coming up on 30 years in 2022. What that tells you is that I love what I do, I love the patients I see, and I love the people I work with. While I enjoy longstanding, personal relationships with all my patients, I have a special fondness for seeing little ones in my chair. I also get a lot of satisfaction from working with a patient who has not seen a dentist in a while and getting them on the road to a clean, healthy smile.
I love to travel and so far have visited 42 states and 12 countries. My goal is to make all 50 states, which means I have only eight more to go. I also love to ski, golf, bike, and spend time in the UP (Upper Peninsula) where I grew up. My husband and I have grown twin sons and keep our Green Bay home lively with a sassy little Morkie pup named Jazzy.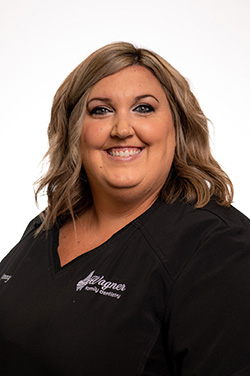 Jenny
Patient Representative
My specialty is creating a worry-free environment for our patients. My motto is: If you can have fun at what you do, then why not?! I will see that everything is in order for you at checkout. I will also discuss recommended treatment plans and related financial arrangements. Need a specialist? No problem. I will walk you through that as well! I will go the extra mile to assure that you leave as a happy camper.
Speaking of camping, I spend most of my summers camping in Door County with my family. Or maybe I should admit to "glamping," as we have a pretty nifty camper that is our summertime home away from home. My husband and I are avid sports parents and have our kids involved in baseball, basketball, football, archery, dance — you name it! In the off-season, you will find me working at my family's Christmas tree farm in Luxemburg or creating family memories with our crew.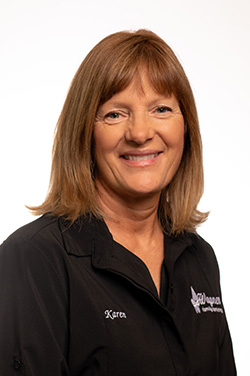 Karen
Registered Dental Hygienist
I love working with periodontal patients. It is a real highlight for me to see a patient's oral health improve significantly once they develop a regimen of routine cleanings and at-home maintenance. I see myself and my patient as a team both working toward the same goal of optimal oral health. I am passionate about providing oral hygiene instruction and best practice tips to make sure that my patients are equipped with the knowledge they need to achieve successful, healthy outcomes.
My husband and I have two grown children and two grandchildren we thoroughly enjoy spoiling. Camping, downhill, and cross-country skiing are some of my favorite ways to spend my time. I am active in our church and enjoy keeping the church grounds beautiful with my gardening skills. You might be surprised to know that I love motorcycles and used to ride quite a bit with my dad, five brothers, and some cousins. Guess I was just born to be wild!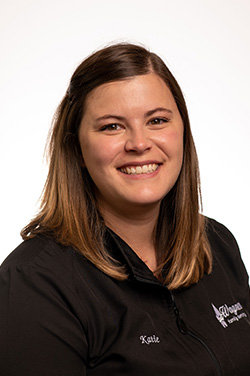 Katie
Registered Dental Hygienist
Brighten their day. Make them smile. Promote great dental health. It is a simple formula that can have a profound impact on someone's day. I take pride in bringing a confident, calming presence to my work and helping even the most nervous patient overcome their treatment fears. Seeing an attitude change from one of apprehension to one of "hey, that was pretty great, see you in six months" is just the best.
This girl shoots trap! I have been shooting trap since I was ten years old and I might add that I am pretty good at it. I grew up in the Luxemburg/New Franken area and that is where my heart is along with my husband, our two boys, a large extended family, and a cat. Any time I am not busy keeping your smile healthy, you can find me home with family just hanging out with the people I love most.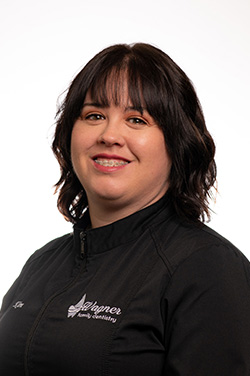 Kim
Certified Dental Assistant
I graduated from Fox Valley Tech in 2000, so I have been a dental assistant for many years! I have experience assisting in endodontics and prosthodontics, and now enjoy the challenges and variety of working in general dentistry. I get to assist both of our talented doctors, which is a bit of a challenge because one is right-handed and one is left-handed, which means I have to switch sides throughout the day. Keeps me on my toes in a good way! I love meeting new patients and look forward to making your time in my chair as comfortable and relaxed as possible.
My husband and I share a love of camping and have a permanent site at Farmer Gene's Campground in Waupaca where we have an ongoing labor of love renovating our 2009 Keystone camper. I have two grown sons who both decided to go into teaching. Our Black Lab Tucker keeps us entertained with his antics and big personality and his little black kitty sidekick completes our family. Give me a little quiet, a comfy chair, and a good book and I am a happy girl!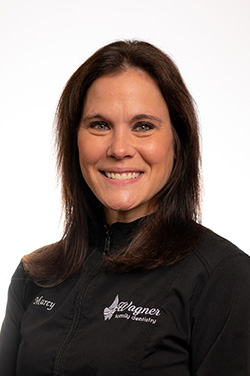 Marcy
Certified Dental Assistant
I spent the first half of my career assisting in pedodontics and now the second half in general dentistry. I love working alongside such caring and capable doctors and seeing how happy our patients are with their treatment outcomes. I especially love seeing a smile transformed and knowing that the patient is so pleased with the results. Meeting new people and getting to know our patients on a personal level makes this a great career choice for me. You will quickly discover that I am a real talker, so conversation will come easy!
I am a "tomboy" at heart who loves the outdoors: hunting, fishing, and am not afraid to get down in the dirt! But I also love dressing up real girly like for an evening out. I am a pretty good cook, which my family and friends totally appreciate! When I am not cooking or playing in the dirt, I can be found helping my two kids with school activities, taxiing them around, or cheering them on in sports. I also enjoy being involved in our church and just spending time with my husband and our big extended Denmark farm family.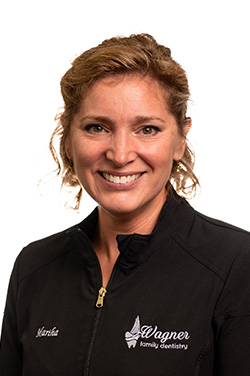 Martha
Registered Dental Hygienist
I have been in the dental profession for more than two decades so you are in capable hands in my hygiene chair! I love to laugh and I love to make people laugh, so besides helping you achieve great oral health you might even have a little fun while you are here. I see each day as a gift where I am truly blessed not only to care for great patients but also to work with a wonderful team of dental professionals.
I enjoy volunteer work with my church and serving in a community pantry. I have a special interest in sign language and considered that as a career option before I committed to the dental field. My Luxemburg home is filled with two girls and two spoiled Teddy Bear dogs. Hiking, playing games, traveling, spending time with family, and trips to Disney are on among my most favorite things!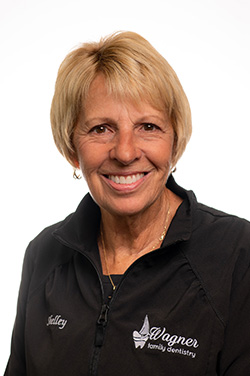 Shelly
Registered Dental Hygienist
A healthy mouth and a healthy body; I am passionate about both! Periodontal (gum) disease can have a huge negative effect on your body, so I am a strong advocate for hygiene education and routine cleanings aimed at protecting your overall health. A holistic approach that includes nutrition and exercise are vital as well. I believe that a thorough health history is key to helping me to focus on the treatment best suited to each individual patient.
Summer days in Door County, golf, riding my bike, walking our dog, and gardening are just a few of the activities you might find me busy doing. Born and raised in Green Bay, I am a hometown girl. I am active in my church, serving on a number of boards and committees. I have also served as a hospice volunteer and as a helping hand to the elderly. My husband and I enjoy life with our Teddy Bear dog in our quiet Allouez community.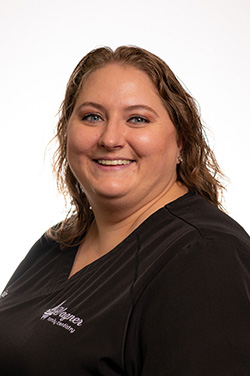 Denise
Insurance Specialist
I enjoy bringing my 16 years of insurance experience to assist our clients at Wagner Family Dentistry. It feels good to help people understand their benefits, so they can make educated decisions about treatment. I love when I'm able to show a person that we can maximize their coverage so they can get the care they need. The look of relief and appreciation is priceless!
Away from the office, I spend much of my time with my two daughters and relaxing with friends. I especially love being around a fire and making memories and visiting my large family in southern Wisconsin. I also enjoy trying to be crafty.